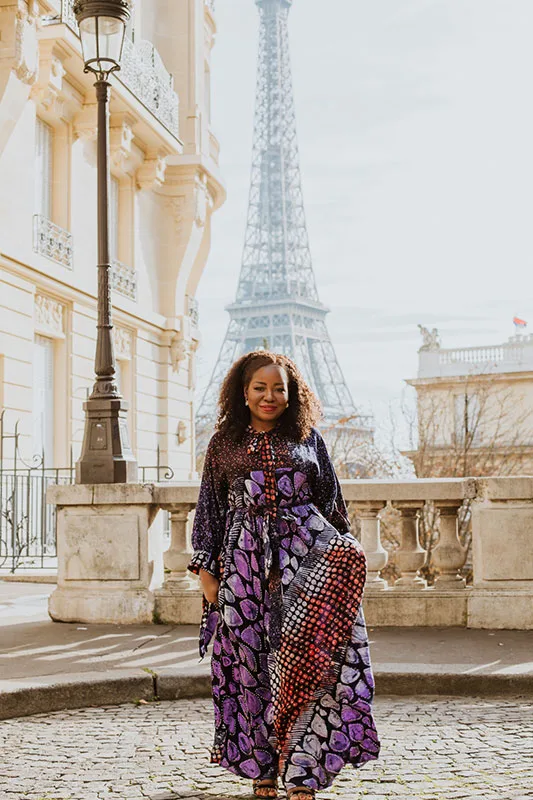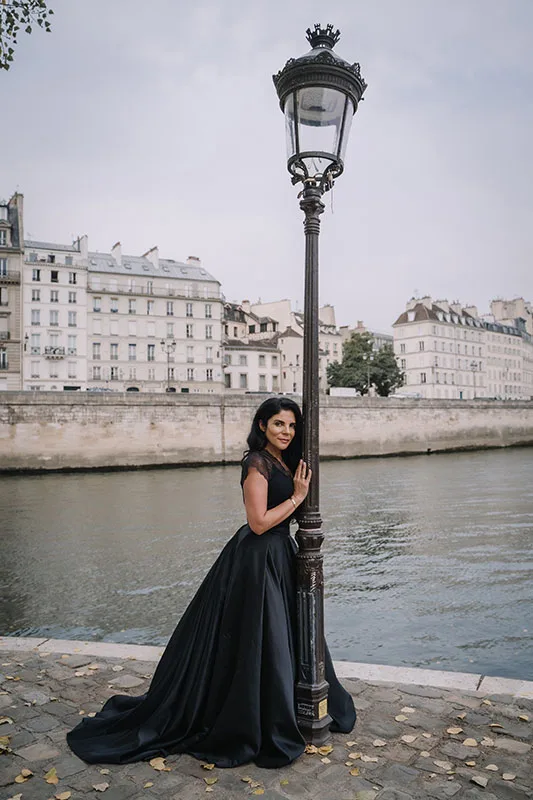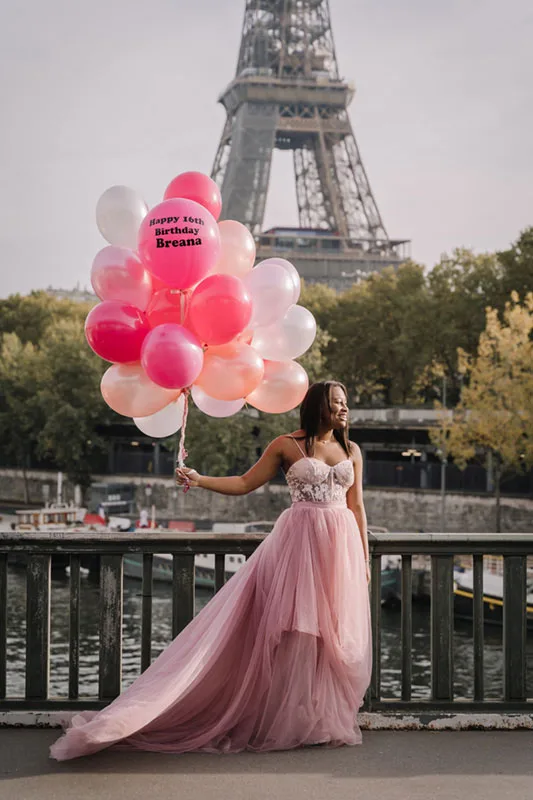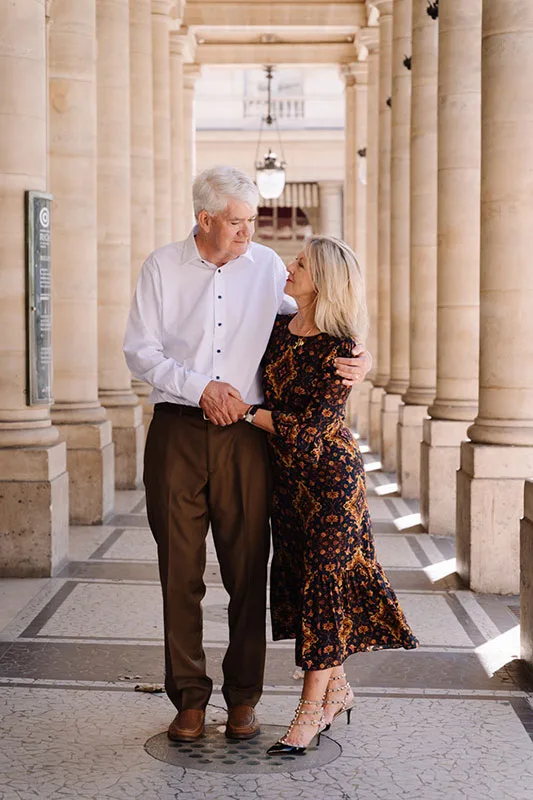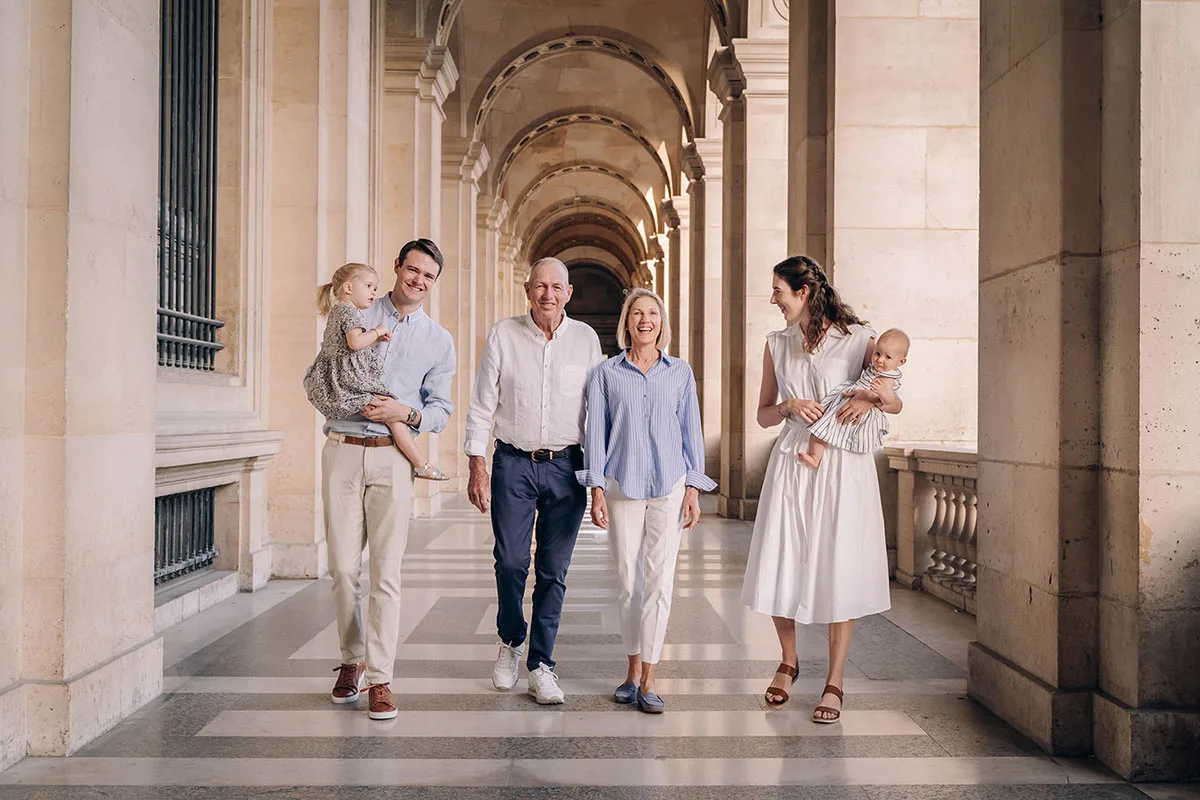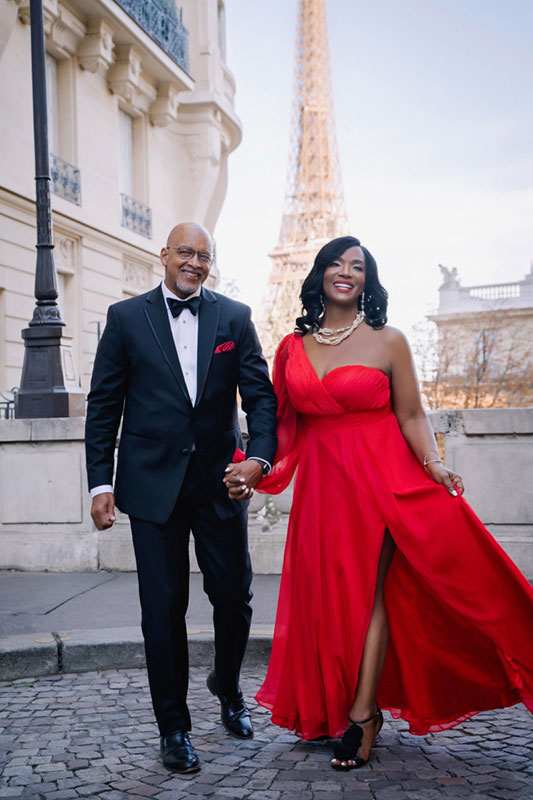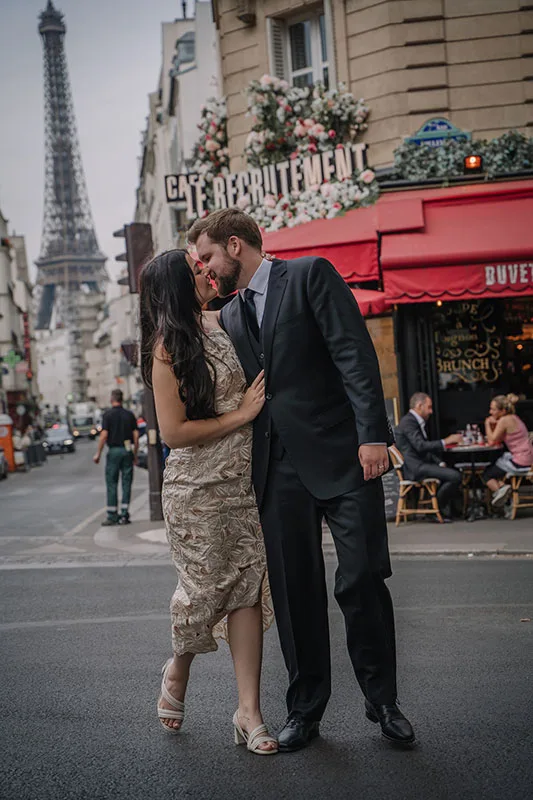 Paris Photoshoots
For couples, families, and especially
for adventurous women who are traveling solo to Paris
As a professional photographer, I offer a personalised photoshoot experience to capture YOU and your unique style within the beauty and romance of the City of Light. Whether you're a couple celebrating your love, a solo traveler looking for unique portraits of your Parisian adventure, or a family looking to capture memories of your trip, I will work with you to create the perfect Paris photoshoot.
Please note that I have ballgowns and cocktail dresses of all sizes in my studio wardrobe, available to you when you book a VIP experience. 
Capture the absolute best moments of your life with your own bespoke Paris photoshoot.
Photoshoots from €495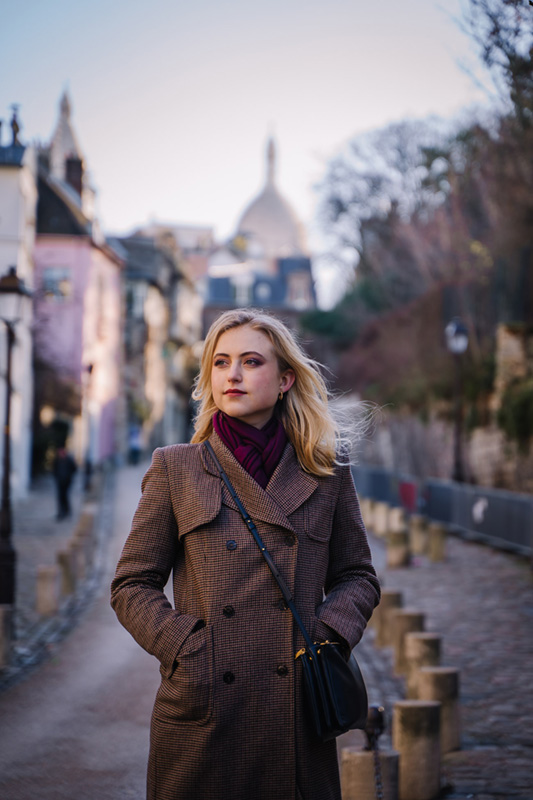 Travelling alone? Treat yourself!
I've been that girl, travelling alone in a big city, with nobody to take my photo in front of the city's icons (yes, I am a selfie-stick snob).
I know the most beautiful corners of the City of Light and I would love to take you on your own personal photo tour of Paris.
The famous Paris icons are the most recognisable in the world – the Eiffel Tower, the Pyramids de Louvre, Jardins de Tuileries, the Palais Royal, and the back streets of Montmartre. Coming to Paris in Spring? Cherry Blossom photoshoots are something else…
I have created a blog post full of tips especially for Solo Travellers to Paris 
With my local knowledge and expertise, I can take you to the most iconic and photogenic locations around Paris, as well as hidden gems that are off the beaten path.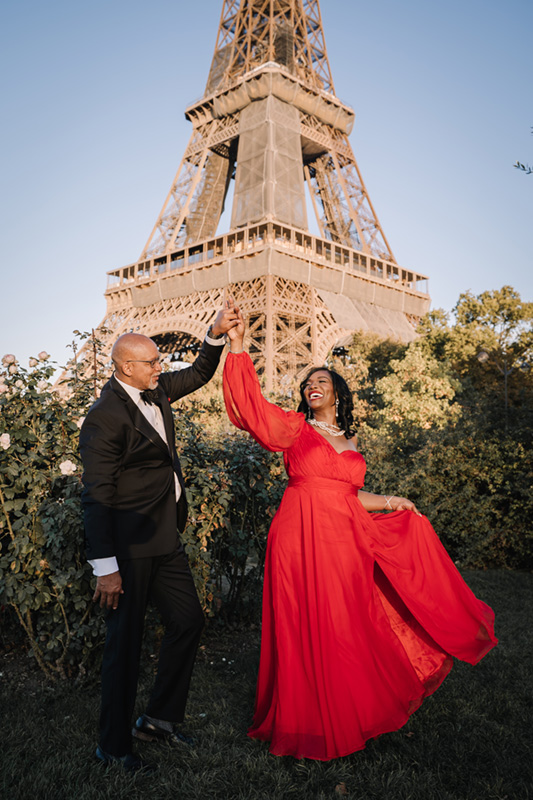 Not only the City of Light; Paris is the city of love and romance and also affectionately known as the City of Love. Just ask any couple who has visited if Paris really is as romantic as its reputation deems it to be?!. (oui!)
I have photographed couples for their own private Paris photoshoot for the last few years and the rate of surprise proposals here is  – not surprisingly –  high!
Other events I have photographed for couples include honeymoon photoshoots, private picnics, anniversaries, Valentine's Day getaways, and elopements. 
I am dedicated to and passionate about, creating photographs that you will love.
Photos that you will treasure for years to come.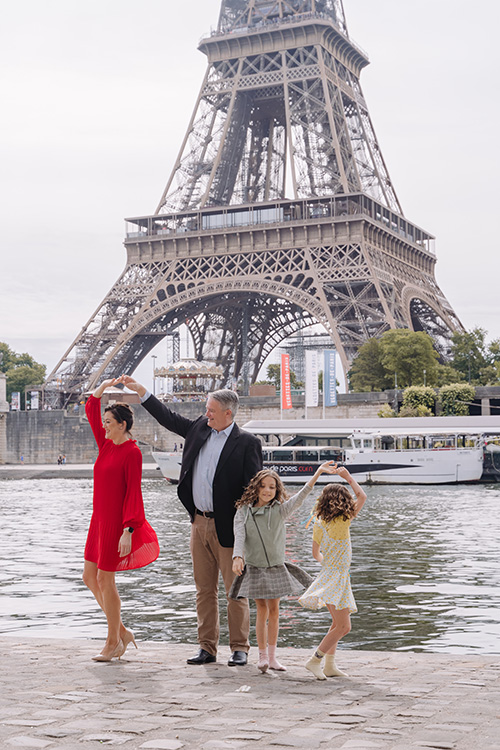 I'd be incredibly honored to capture your family's trip to Paris with your own personal photoshoot.
Creating a legacy and heirloom for your family and future generations is my "raison d'etre".
Priceless memories of you with your kids, parents, and siblings, so that you exist in photos together with an eternal reminder of such a special moment shared.
Why book a Paris Photoshoot?
The real question is why wouldn't you? I came to Paris for the first time with my mum in 1989. What I wouldn't give to have photos of us together from that trip.  In fact, it makes me realise that I don't have nearly enough photos of me and Mum together.
Do I even have enough photos of myself, that I really love and cherish? The answer is no! So it makes me VERY happy to be able to offer women and their families a wonderful and memorable experience in Paris.
I wholeheartedly encourage everyone to exist in beautiful photos to create a tangible heirloom of the best moments of your life, that you can look back on in decades to come – not only for yourself but for future generations who are searching to connect in some way with their ancestors.
Ready to Book your own Photoshoot?
I have always dreamt of having a photoshoot in Paris and Rachel made it happen; I was treated like a queen for the day… we became friends instantly as she showed me Paris to capture amazing photographs I will cherish forever.
I highly recommend Rachel to anyone looking for 5 star service; simply amazing photographer. Her attention to every detail was fantastic; a talented woman! Thank you again, Rachel.
I would be so honoured to be your private photographer in Paris.
Lets create a Paris photoshoot experience that you will never forget!
What time does the photo shoot start?
The best time for photo shoots is early in the morning or late in the afternoon. These times provide the best, most flattering light. My personal recommendation for timing is in the morning as there are fewer people out and about who we will need to dodge as we take the photos.  
What should I wear?
Any photoshoot package you book with me will include the option to have multiple outfit changes—the sky is the limit here! Bring as many outfits as you'd like, as long as you bear in mind the time allotment. As far as specifics, couples usually aim to match in some regard. You don't have to wear identical outfits but could wear complimentary colours or tones, like both wear jewel tones or neutrals. Remember not to wear anything too busy or fussy—this can distract from the photo.
For women, you can't go wrong with a flowy dress with lots of movement. If you want to wear heels, I recommend bringing a pair of flats or sandals to walk between locations. Remember, Paris is an old city, so many of the streets are cobblestone, which is not very heel-friendly! For guys, semi-formal or plain slacks and a button-down shirt always looks great.
If you book my VIP experience or above, you also get access to my studio wardrobe. This is a collection of gorgeous gowns, cocktail dresses, formal wear, and accessories. I have a range of sizes to fit my clientele. You can see a bit of what I have available by flipping through some of my photos, and you can learn more in my blog post about my Studio Wardrobe.
If you want, we can also utilize some props for the photos! Think about what might best symbolize your relationship, or if you want to do some especially Parisian props like berets or baguettes. Remember to have fun with it, as this couple did with their picnic-themed Paris photo shoot.
Pre-Shoot Communication
I value communication highly when I'm booking a photo shoot, whether it's a solo shoot, one with a couple, or with a family. We can try to organise a video or audio chat before the date of your scheduled shoot so we can talk through your vision and goals for the session however if you prefer to stick with emails that is fine too!  Anything works as long as we get an open communication channel established!
Hair and Makeup
I highly suggest you consider a hair and makeup professional to assist with your look before the shoot. Getting professionally "done up" can be an extremely rewarding experience, and I find it helps people feel extra confident in front of the camera! If you go for a professional hair and makeup artist, keep in mind they average around €250. Please add up to 90 minutes to allow for time for this appointment.
What if it rains on the day?
I know covered areas both near the Eiffel Tower and the Louvre and I have never had to cancel for rain. I also have two transparent umbrellas, which can be both a cover and a cute accessory.
Travel on Your Photo Shoot Day
Taxis may not always be readily available the day of in the city. I recommend downloading Uber or hiring a private driver to travel to your photo shoot locations. A private driver or a friend driving can also provide some cover for you if it rains or you need to make a quick change!
Your final Photos
From 2023 I have introduced an Online Gallery where you can choose your final photos. It will be ready for you to view within 7-14 days. We can discuss this further during the booking process.