Your Paris Photo Shoot Wardrobe FAQs Answered:
Your choice of styling for your photo shoot with me very much depends upon the mood of photo you'd like to create. Whatever your dream theme, with my experience in dressing women for shoots, I can assist you in your decision of how you'd like to represent yourself.
So if you are wondering what to wear for your Paris photo shoot, have a quick look through my galleries of client portraits featured on my site. You'll see a range of outfits from the more simple to the extravagant. The majority of the dresses and outfits that you see, belong to me. What catches your eye? I have an ever-expanding stock wardrobe which includes many one-off vintage pieces, as well as classic modern fashion.
Where timing allows, I also have connections with various wardrobe hire companies here in Paris. So, should you require something unique and show stopping (rental fees are not included in the photoshoot package), then extra options are also available. It goes without saying that my aim is to ensure that all my clients feel comfortable with their choices but who doesn't enjoy an opportunity to have fun and delve into the 'dress-up box"?
"What about sizing – aren't all your things standard model size?"
In a word "No"! I realise the need to offer beautiful options for women across various shapes and sizes so many of the items in my collection are adjustable to fit across a range. I can 'pin and tuck' to size on the day, however, many of my most successful shoots have involved nothing more than luxurious swathes of draped chiffon or silk.
If a little inspiration is needed for your Paris photo shoot, take a look at some of my previous client photo shoots using some of my key pieces: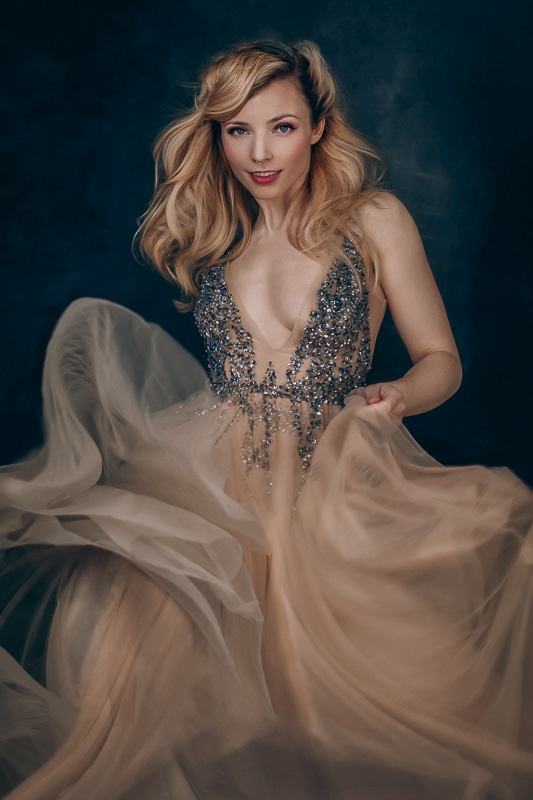 Delicate, nude/blush coloured chiffon ball gown with soft feminine full skirt and fitted bodice adorned with crystal embellishment. Suitable for sizes 6-10. As one of my most popular choices, this dress in its muted pastel shade, works well with all skin tones and hair colours. Wear this dress for a boudoir or portrait theme or as a fairytale tableau next to one of the iconic sights in Paris.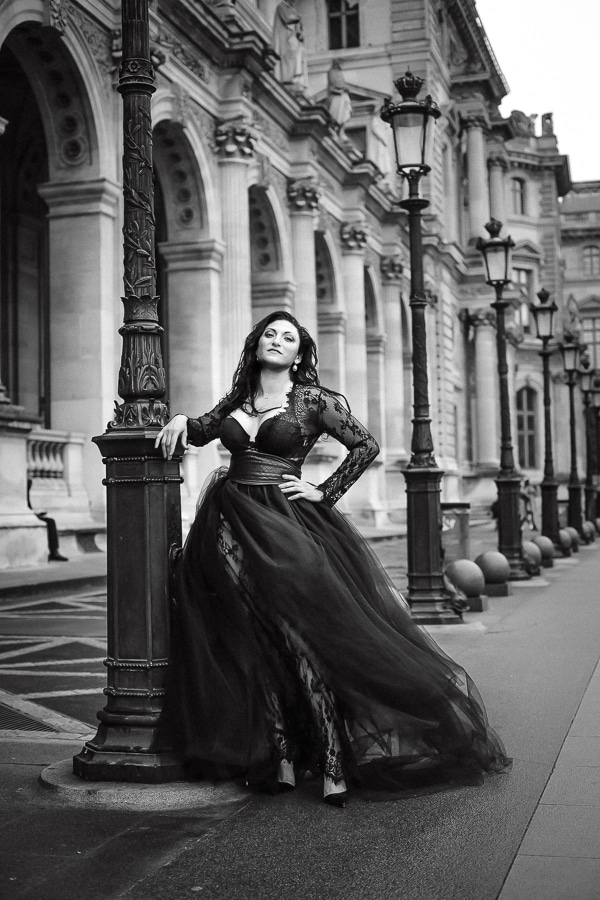 Sheer lace and mesh maxi gown in black, with scalloped edge deep V neck and long sleeves. Suitable for sizes 6 – 12. I've used this simply as is for models on Boudoir studio shoots and also layered underneath my full tulle skirt for a more dramatic statement.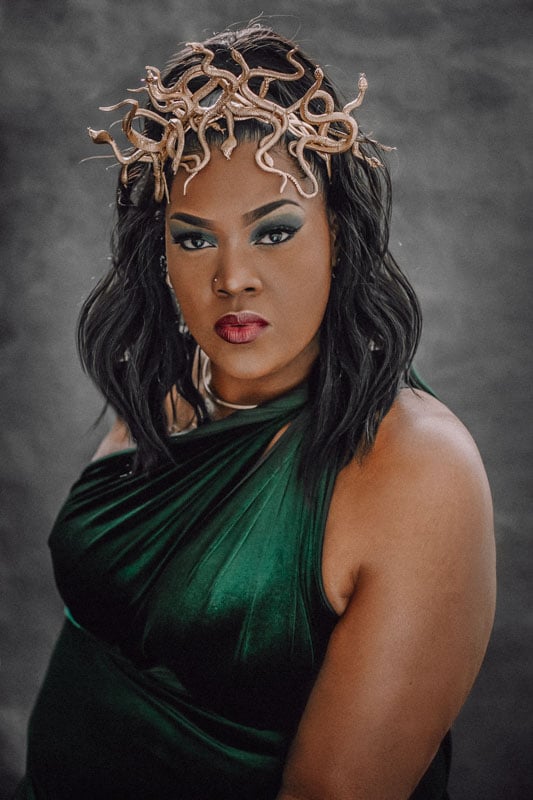 Forest green velveteen "Infinity" maxi dress. This dress features a bodice section which can be adjusted to suit most body shapes. Suitable for sizes 12-16. It's incredibly flattering and furthermore, can be dressed up or down to channel either your inner "Hollywood femme fatale" or your "timeless classic beauty".
Accessories:
Sheer black mesh capelet with scalloped edging detail encrusted with crystal embellishment. One size fits all. Worn in a variety of ways as an accessory to add luxurious detail to the most simple of outfits.
Vintage V-shaped, Victoriana neckpiece in black lace with jet beading detail. One size fits all. An original one-off antique piece fabulous when used to add period style to an outfit. Equally fabulous for a more daring Boudoir theme.
Multicoloured silk wrap/scarf featuring peacocks and flower detailing and embroidered feather pattern detail. One size fits all. Reminiscent of kimono style, this vibrant scarf with its glowing colours and motifs, adds a playful accent.
Black Christian Louboutin shoes, iconic styling and the signature red sole to set hearts a-flutter. Size: UK 6/EU 39. Need I say more?
I hope this has helped a little bit with your question: What would I wear for my Paris photo shoot? If you love to dress up and likewise, would love to experience a glamorous Paris photo shoot with me as your trusty photographer – don't hesitate to explore my website or contact me for a chat.
Are you dreaming of your own professinal photo shoot?