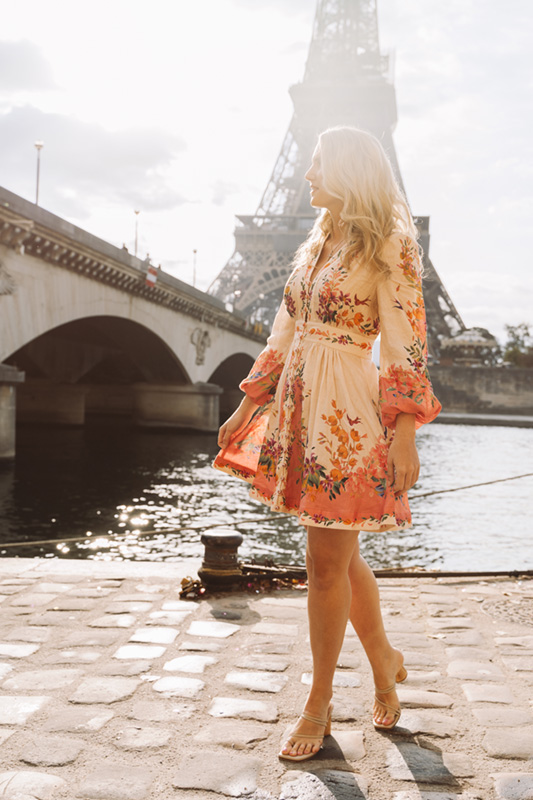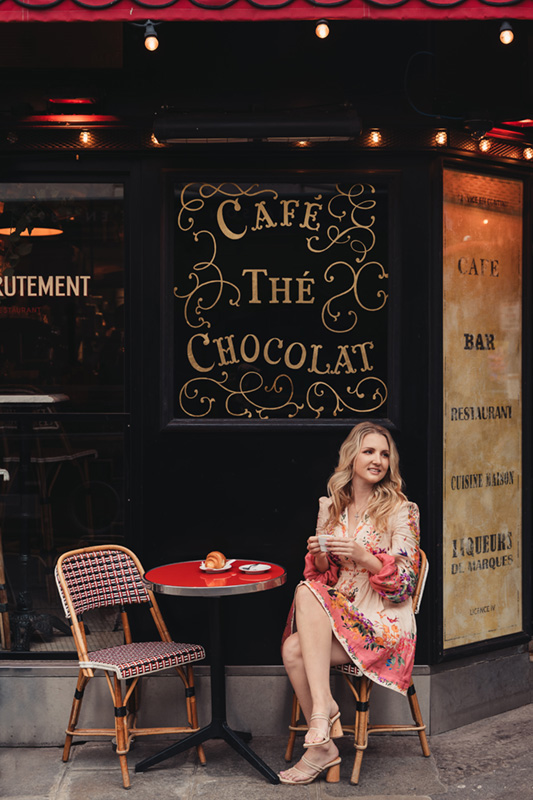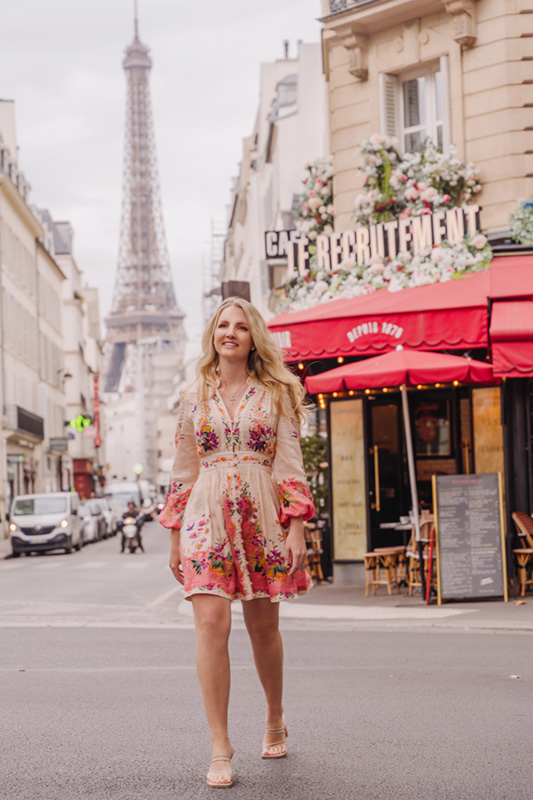 Tips and Tricks for Solo Travellers coming to Paris
Hey, solo travellers! As an Aussie living in Paris, I know only too well what it's like to become overwhelmed while weaving one's way through a foreign city.  Especially if you are travelling alone.
I created this short guide to Paris for my clients who are planning a trip with a few insider tips that might help you throughout your stay here. However, if you are simply looking for information about my solo photoshoots in Paris you can skip the blah blah by clicking here: Paris photoshoots for solo travellers
Where should I stay in Paris?
If you are staying in Paris for a few days, I recommend (from personal experience) the following arrondissements. Wondering what's an arrondissement? They refer to the way Paris is divided into administrative sections. Within each of these 20 sections are 4 neighbourhoods or 'quartiers'. Generally, we refer to the number of the arrondissement where we live or are staying, and then specifically the quartiers if pushed for more info.
So, where to stay in Paris for first-timers?
1st – Le Louvre: You will be in the mid-centre and if you dream of that beautiful Parisian architecture, the 1st is for you. Stroll through the Jardins des Tuileries, hang out on the quais of the Seine, and shop on rue St. Honoré.
3rd – Bourse: but more well known as Le Marais. Busy with shops, restaurants, cafes and plenty of galleries and museums. It's chic Paris in a trendy way rather than a Coco Chanel way. It's also Gay Paris along with being the original Jewish neighbourhood. I love Le Marais.
5th, 6th, 7th, and 8th are all quite safe and offer that classic Paris experience.
16th Passy: It's wealthy and swanky and very close to the Eiffel Tower
12th – Reuilly: but around Bastille, if you want to experience a realistic Parisian lifestyle that is arty, lively and 'bobo' i.e bourgeois-bohemian. La Bastille is of course symbolic of the French Revolution.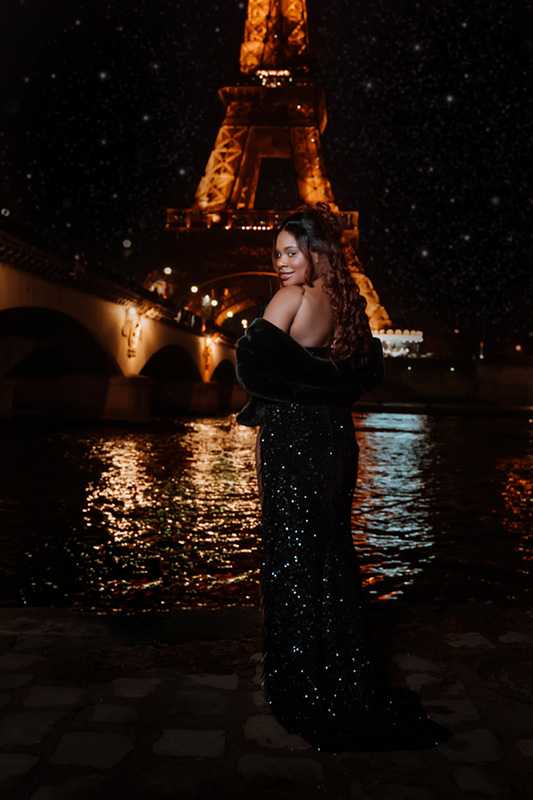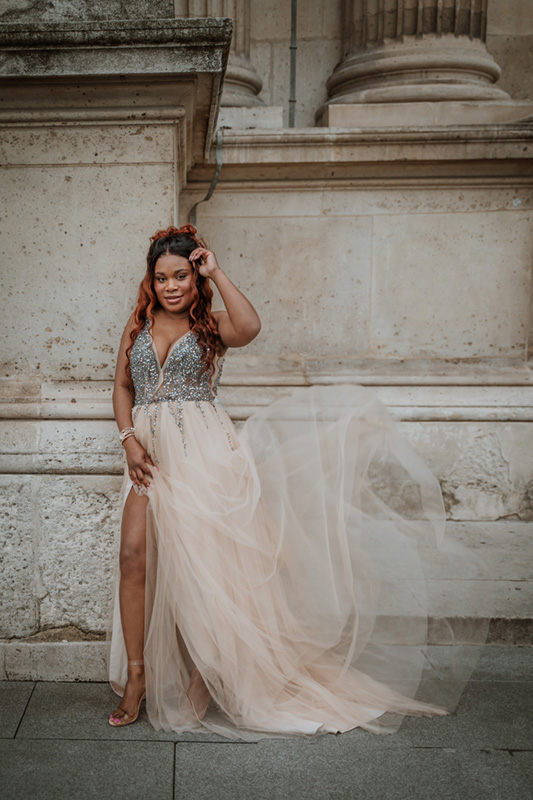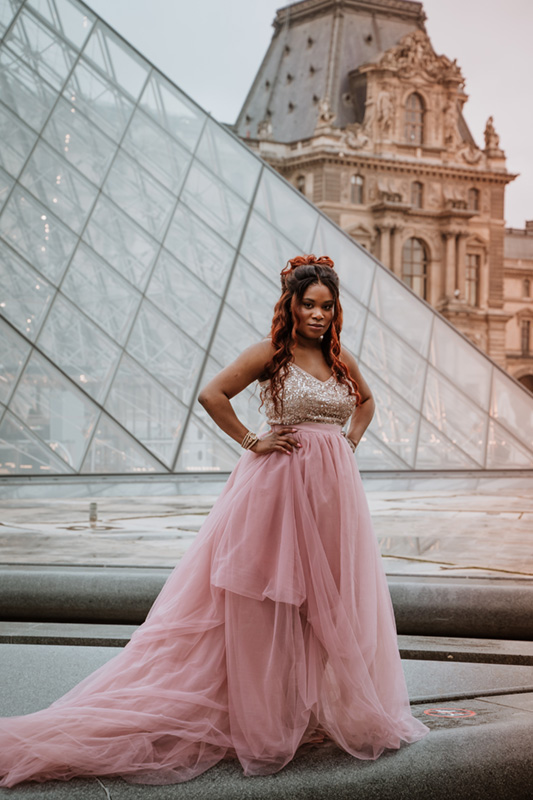 Safety & security in Paris
Paris is unique, romantic and picturesque but as with other cities, you need to be vigilant.  Always be aware of your surroundings. Try not to flash your phones around. Know where you are going in advance because the lost and vulnerable make easier prey. Project a confident energy and people will leave you alone. Though it has never happened to me directly, it has happened to my son, my auntie, and the girl sitting across from me on the Metro – there are pickpockets and straight-up thieves, so always keep your belongings in a secure bag. A common scam is being approached by kids asking you to sign a petition and while you are distracted, they snatch your purse or phone.
Transport tips for solo travellers
Metro:
The Paris underground is a great way to move around the city quickly, ligne 1 is probably the best line because it connects to most other Metro lines and it is the most modern.  It's a direct line through most touristy locations of Paris such as the Bastille, Louvre, Les Jardins Tuileries and Les Champs Élysées.
Bus & tram:
I recommend that you get the RATP app to see every bus route. There's a tram system, it's helpful if you live on the outskirts of Paris or if you want to go to conventions (Porte de Versailles). If all else fails: download the UBER app or use the Paris taxis.
Paris's bike system
is called
Velib',
you should check it out and download the APP in preparation. Velib' stations are spread all over Paris.
Paris and the locals
This is perhaps a whole blog post in itself… there are so many French stereotypes which should actually only be attributed to Parisians. Emily in Paris does a good job of highlighting some of these characteristics and once you start to notice them too, you may even feel a little endeared towards our slightly impatient, culturally protective "amies".
Here are 2 simple things to note that will help you win over some of the locals :
ALWAYS start a conversation with a simple "Bonjour" and a departing Merci or Au Revoir is just plain manners. Add on a Madame or Monsieur for extra points. NEVER click your fingers and call out "garcon" to a waiter – this is actually rude and outdated. YES, I have been in the company of two different people who've used it and I nearly slid under the table with embarrassment. So, a friendly face, amongst a sea of (somewhat) cranky Parisians, can be a truly welcome sight especially when it belongs to someone with some local knowledge – I love hanging out with the locals when I travel. If you are looking for that friendly face and maybe want to capture some of your excellent adventures in beautiful timeless portraits – I'm your girl… which takes me to my next solo traveller tip.
Hotels Bars and Restaurants
5* Brach Paris 16th arrondissement
– 
I have not been there myself but my husband works in the area and has only heard great reviews. Restaurant with an Asian flavour and rooftop bar with great DJs and 360 degrees views – Eiffel Tower included!
Le Fumoir
–
 My go-to restaurant when recommending a restaurant in Paris. The friendliest staff, excellent food for a reasonable price and right next door to the Louvre and La Seine.
Le 1905
If you dream of old-school Paris, art nouveau deco and laid-back sophistication then this is the bar for you. Cocktails are excellent with a seafood-influenced menu in the restaurant. 
For an even more thorough list Yasmine, my French teacher, created this post
Things To Do In Paris 
Paris Photoshoots for Solo Travellers
I've accompanied many a solo traveller on my photo shoots in Paris. There is nothing more fun than dressing up and visiting some of the world's most famous iconic sights.  I'll give you as many directions and posing prompts as needed, consequently, there will be a lot of laughing. We can also confuse the public at the same time… "is she some kind of celebrity?" or "who does she think she is, some kind of celebrity" hehe!
Photoshoots at the Eiffel Tower are a famous bucket list item for solo travellers in Paris. But of course, there is so much more to Paris than just our Iron Lady – I love photoshoots all over this beautiful city and am happy to brainstorm with you to figure out the perfect spot for you. Photoshoots at sunrise are popular for the most beautiful light – and considerably fewer tourists to compete with – however, it really depends on the location and what you desire for your photos.  
Jess's Solo Traveler Photoshoot Paris
One of my very first clients to book a photoshoot with me in Paris! Jess wore the "Sparkle Dress" from my studio wardrobe but also wanted some fun casual shots just hangin' out around Paris. Cue Nutella Crepes and messy fingers 🙂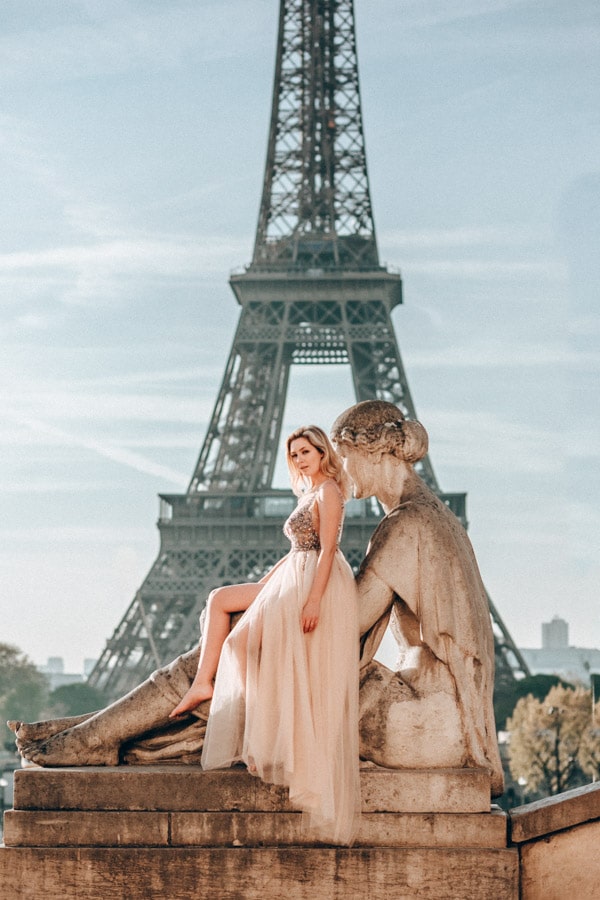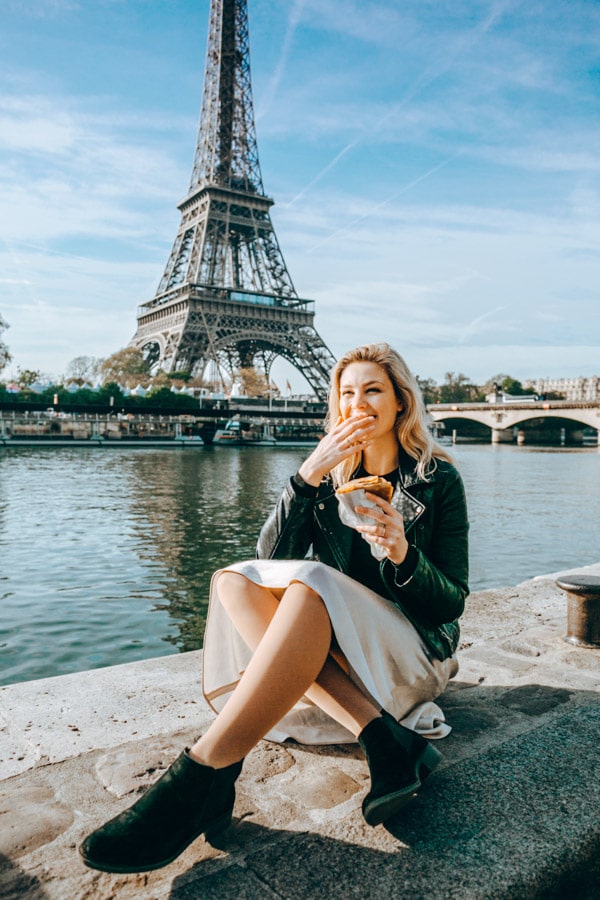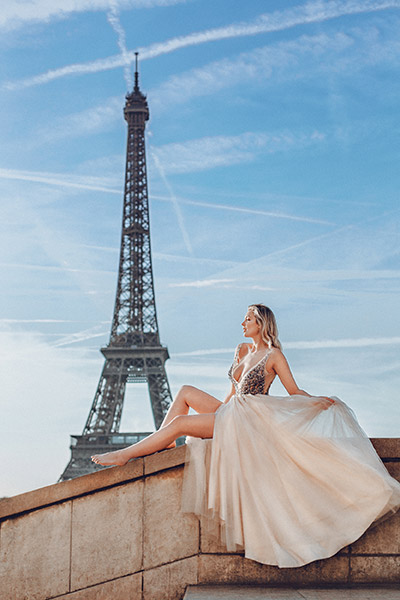 Marta's Solo traveler Photoshoot Paris
Marta visited from Poland and simply wanted some beautiful photos of herself to mark and celebrate a certain period in her life. I wrote a full blog post dedicated to her Read It Here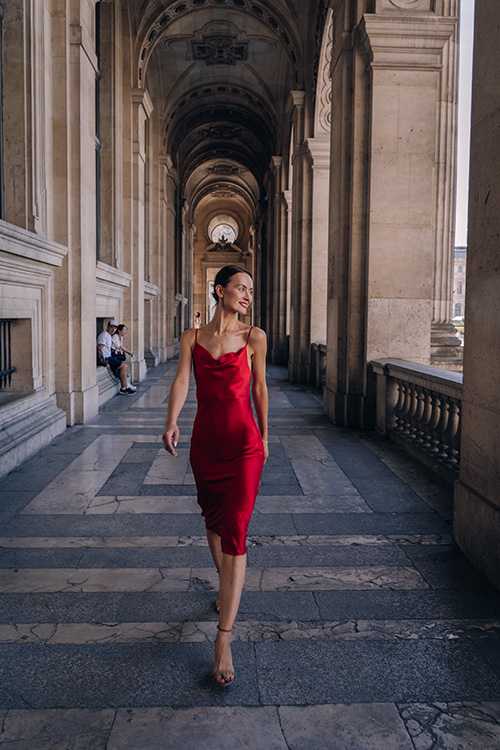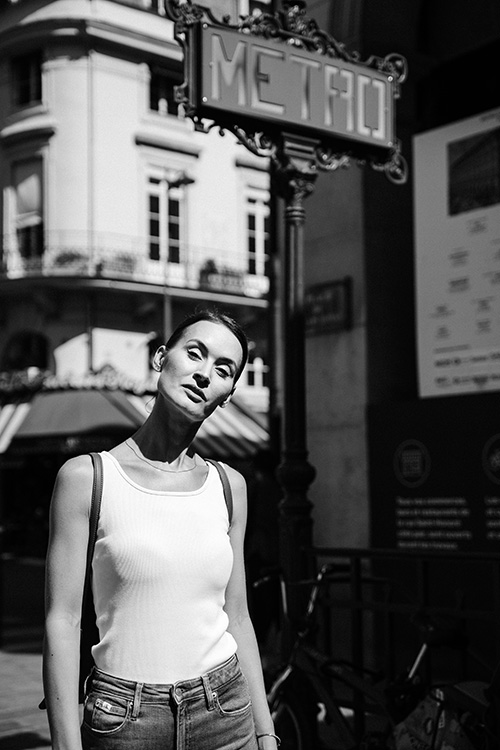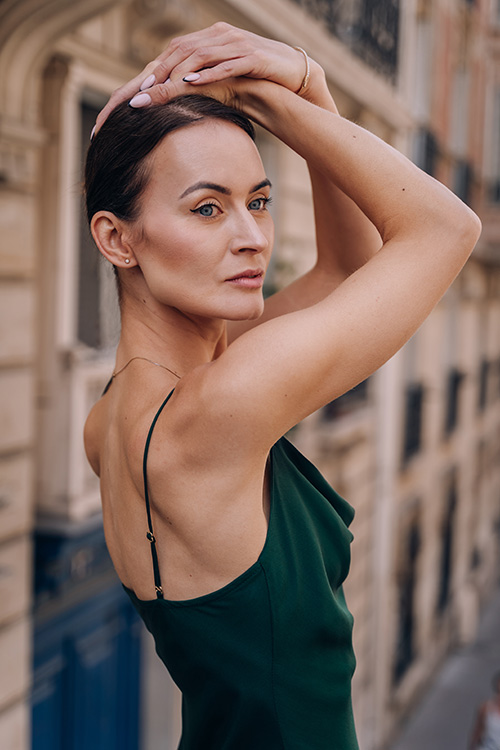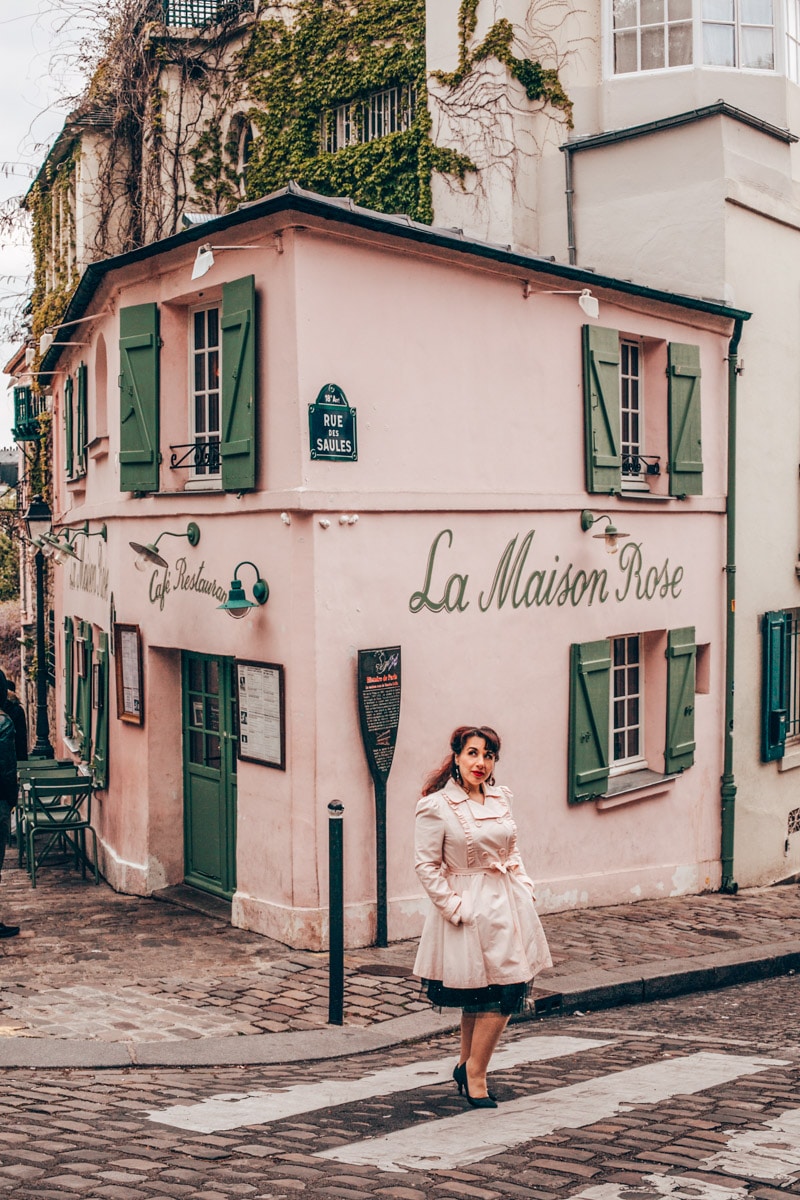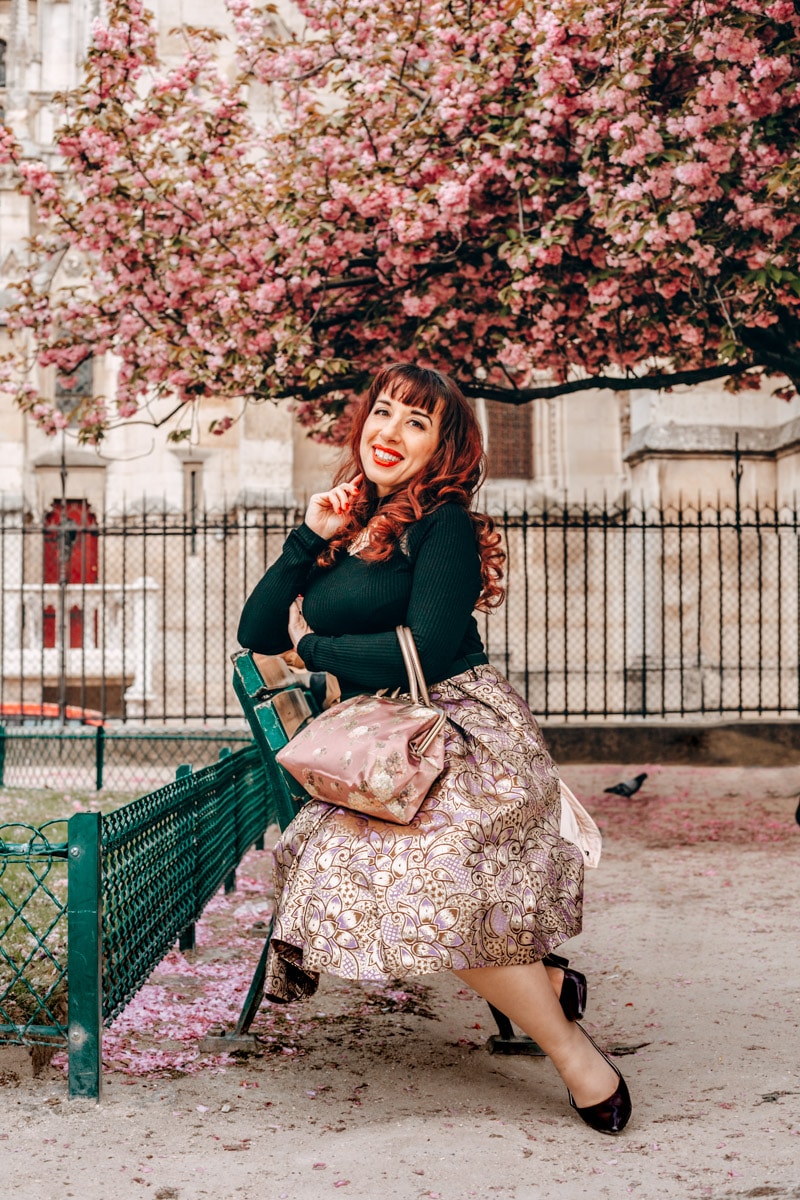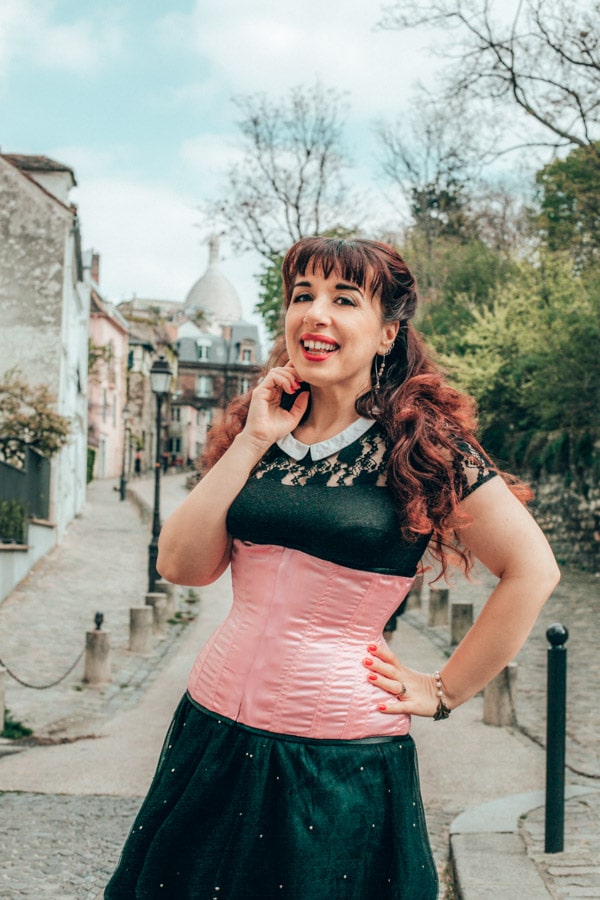 If you are visiting or in Paris right now and want some extra special souvenirs, book your own private solo traveler photoshoot in Paris with me.
Priceless memories, yours forever. Contact me for a chat
Ready to create timeless memories of Paris with me as your guide?
And finally, if you want to listen to some of my fave French songs while cruising around Paris, here is my Frenchies Spotify playlist: