If you want to book a photoshoot to capture your trip to Paris but aren't sure if the typical Paris icons are your style… maybe a photoshoot in Montmartre is for you.
Montmartre is perfect for photoshoots because of the neighbourhood's bohemian vibe, picturesque architecture, rich artistic history, and charming streets. And aside from the Sacré-Cœur Basilica, it has its own iconic landmarks such as the Lamarck-Caulaincourt metro station, La Maison Rose, and Rue de l'Abreuvoir.
I spent a wintery January morning wandering the pretty cobblestone streets with my client Grayson. Starting on Rue de l'Abreuvoir with the obligatory photo outside La Maison Rose, then various other famous spots, and finally to metro station Lamarck-Caulaincourt.
It was a perfect morning tour with some gorgeous photos to commemorate Grayson's time studying at Sorbonne University.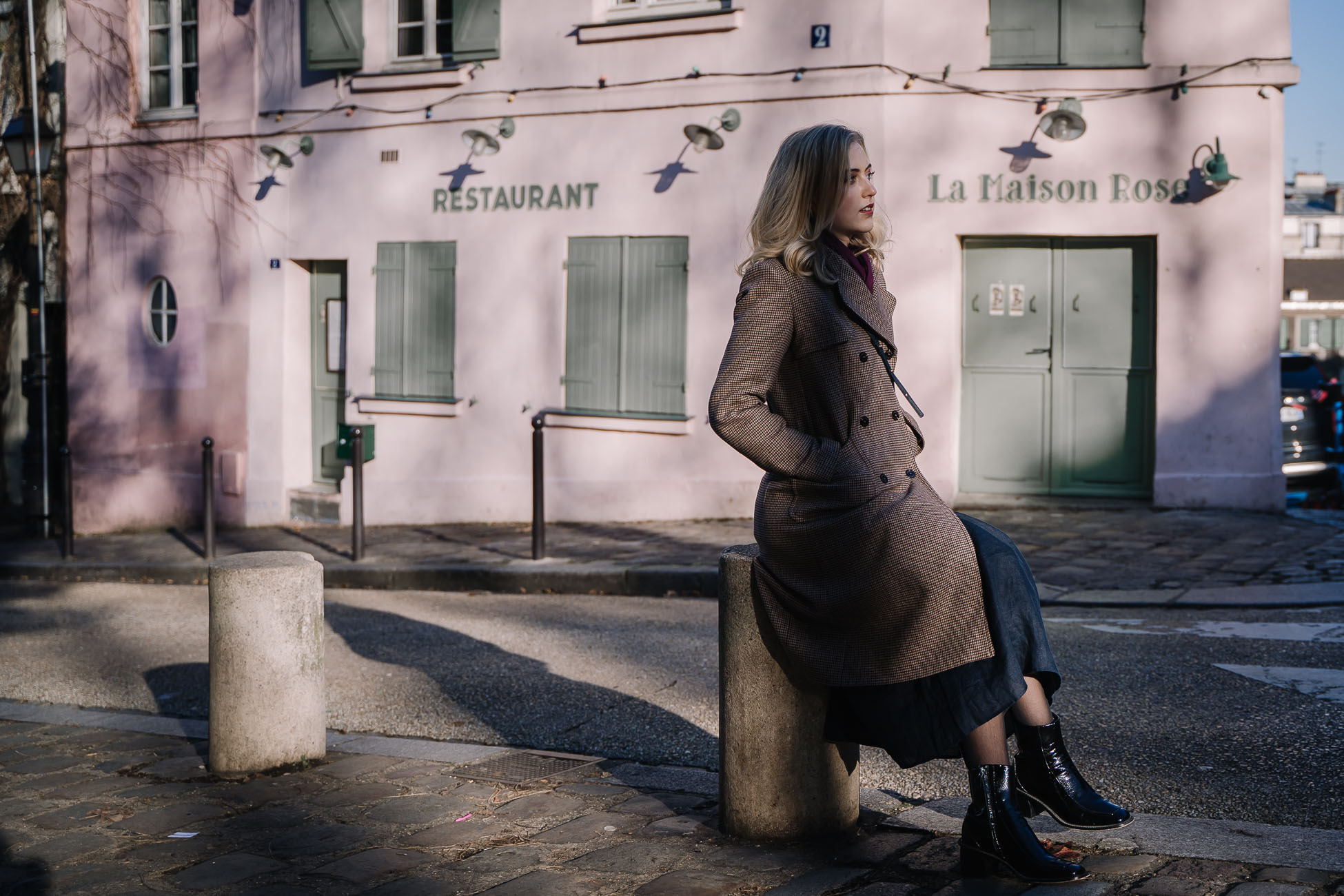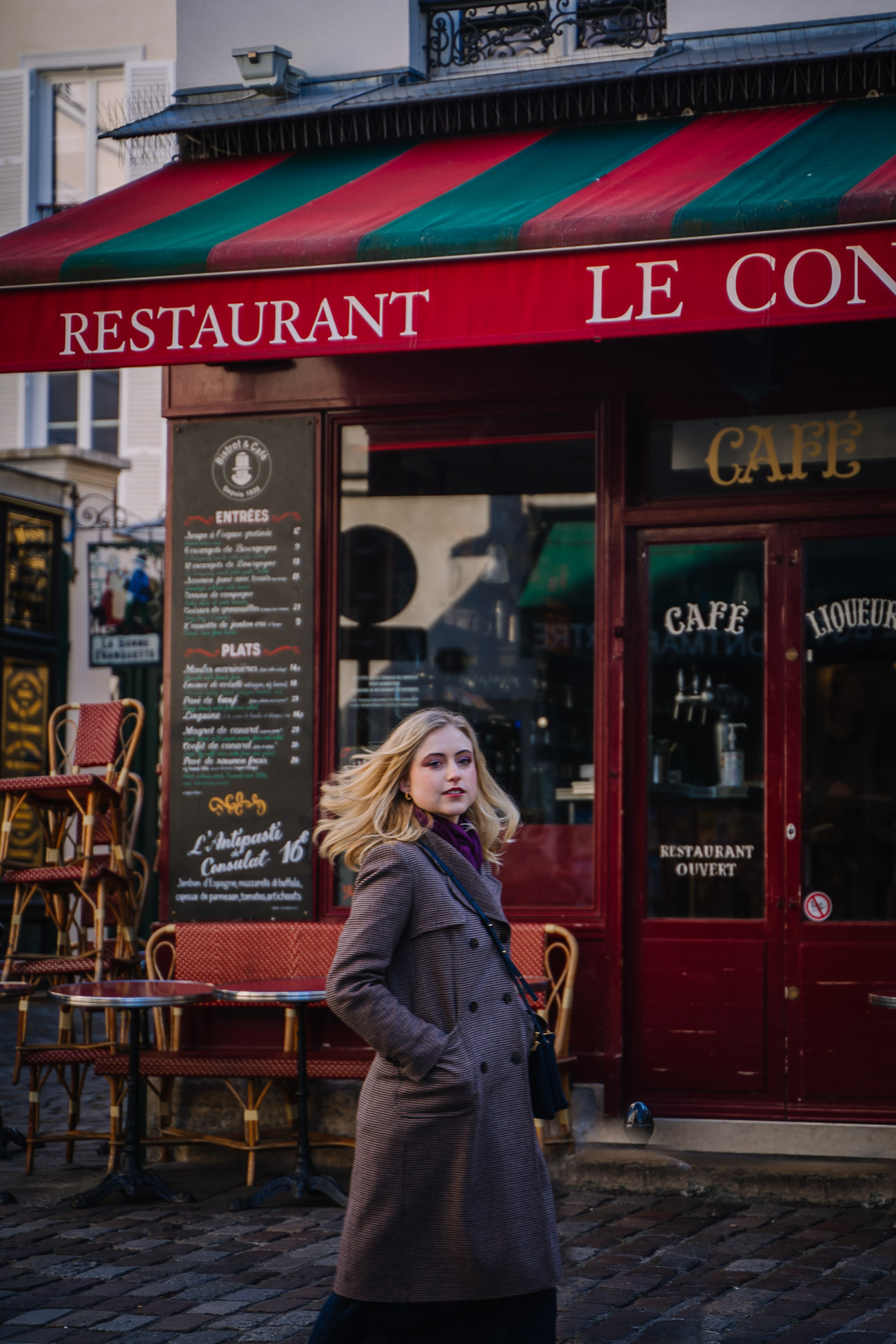 We also created some photos in her apartment that wonderfully depict Grayson's interest in art and literature. These photos offer a true glimpse of this lovely young lady in a special period of her life and they will allow her to look back on and reflect upon the magical being she is, and where it all started, in Paris early 2020s!. Grayson if you are reading this, thank you for allowing me to share them!
If like Grayson, you are looking for a unique way to capture your memories of Paris I'd be so happy to work with you to create something unique to your own personality and style. I am your private photographer, ready to create some magic with you, too 🙂
Let me share a little of the history of the spots Grayson and I stopped at along the way.
La Maison Rose

La Maison Rose is a historic building located in the Montmartre neighbourhood of Paris. The pink exterior and charming facade make it a memorable and very Instagram-able location! If you are a fan of "Emily in Paris" La Maison Rose appears in episode 2 when the main lady, Emily (played by Lily Collins), eats dinner with her new bestie, Mindy. Check out my full blog post about Emily in Pari s filming locations here
The building dates back to the 19th century and was originally a restaurant and tavern. It was a popular gathering place for artists, including Pablo Picasso and Maurice Utrillo – son of the great Suzanne Valadon. In fact, Utrillo lived in an apartment just above La Maison Rose for a time.
Today, La Maison Rose still operates as a restaurant and bar and has become an iconic symbol of the area.
Lamarck-Caulaincourt Metro Station
The Lamarck-Caulaincourt metro station is located near the top of the hill and is one of the main access points for visitors to the area. The station's architecture is noteworthy, as it features Art Deco elements and colourful tile work.
If you are a fan of the 2001 French film "Amélie", you may recognise it! In fact, the station is now sometimes referred to as the "Amélie station" by fans of the film. It has also featured in other films like "La Vie en Rose" and Woody Allen's rom-com "Midnight in Paris".
Le Consulat
Le Consulat is a famous restaurant located in the Montmartre neighborhood of Paris, just a short walk from La Maison Rose and the Lamarck-Caulaincourt metro station. The restaurant dates back to the 19th century and has a long history of serving artists, writers, and other creative types who were drawn to Montmartre's bohemian atmosphere.
Where is your dream photoshoot location? Fill out my booking form and let's discuss. No obligation to book!